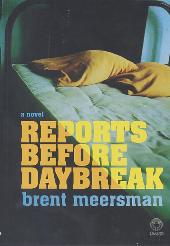 1980s South Africa – the Republic is ablaze. Zukiswa Nonkosi's half-brother returns as a freedom fighter. Fifteen kilometres away but a world apart, François de Koninck leaves to fight on the border, while his brother musters dreams of becoming an artist. In a mansion on the other side of town, Bertie Diepenaar is reading Marx.
Across all barriers, fate will link their destinies as all hell breaks loose.
Framing their story with newspaper headlines, biographies and eyewitness accounts, Reports Before Daybreak is a portrait of the country in its darkest decade, but with the promise of a new beginning with Mandela's release. It is the story of a generation's coming of age and the breaking of a new dawn.
Click here to listen to SAFM interview on the book: SAFM Interview with Karabo Kgoleng 8 May 2011
Click here to listen to John Maytham's review of the book on Cape Talk radio 567MW: John Maytham Cape Talk